Two -speed stairs from the conglomerate for PLN 8,000
Pod noskiem każdego stopnia z konglomeratu umieszczono taśmę LED-ową. Oświetlenie uruchamia czujnik ruchu
House parameters: brick, area 260 m2, two floors, lower floor height 3.10 m.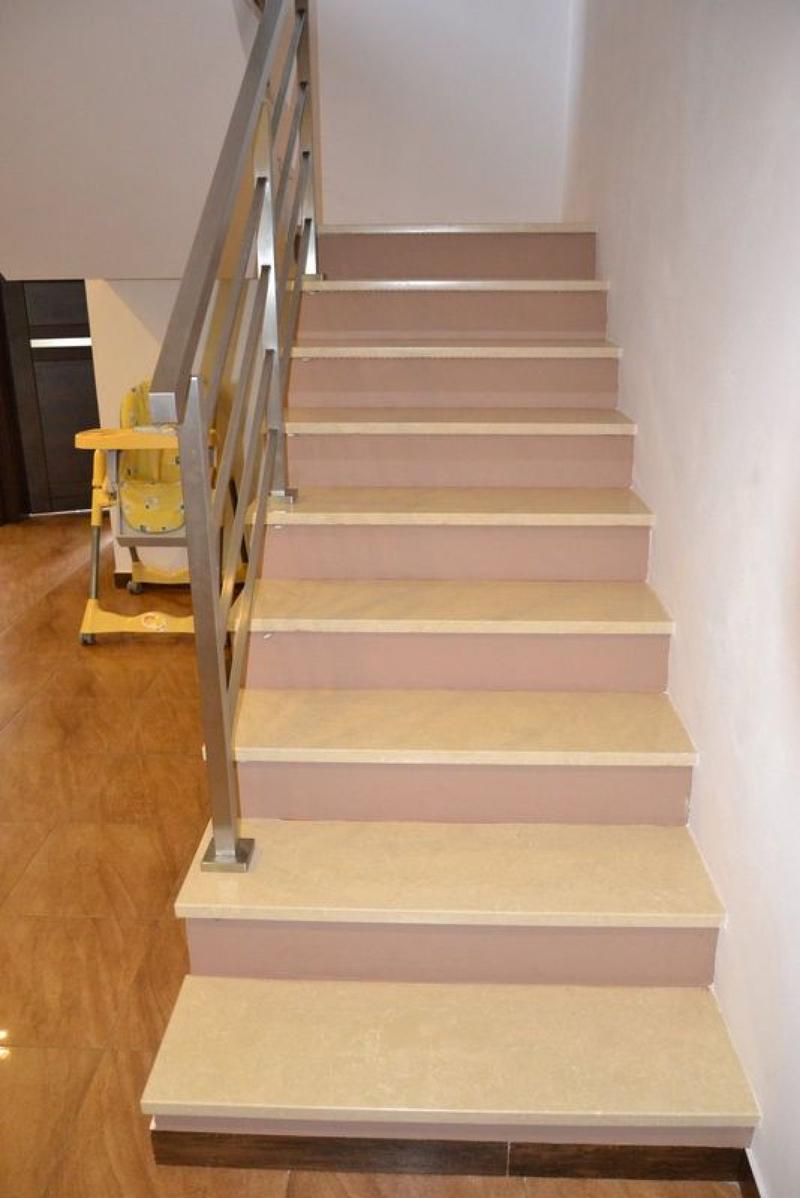 Schody: dwubiegowe, ze spocznikiem, szer. każdego biegu 99 cm.
Location: in the center of the house, in the lobby.
Decyzja: konstrukcję schodów zrobiliśmy na etapie stanu surowego, podczas zalewania stropu. Zastosowaliśmy konstrukcję żelbetową, żeby nic się nie ruszało i nie skrzypiało podczas chodzenia między kondygnacjami. Stwierdziliśmy, że między dwoma biegami koniecznie musi być spocznik, aby można było wygodnie stanąć. Schody zabiegowe są trudniejsze do pokonania dla małych dzieci i starszych osób.
Dobierając materiały na wykończenie schodów i balustrady, od początku wiedzieliśmy, że nie mogą być drewniane, bo w domu mieszkają również dzieci i pies. Ostatecznie wybraliśmy konglomerat i stalowe balustrady, bo są to materiały bardzo trwałe i funkcjonalne. Nie chcieliśmy mieć oświetlenia z boku stopni, tylko wzdłuż nich. Każdy stopień od spodu noska ma taśmę LED-ową o dł. 80 cm, którą uruchamia czujnik ruchu.
| | |
| --- | --- |
| | |
| Pod częścią dwubiegowych schodów ze spocznikiem można swobodnie chodzić | Przy schodach zamontowano 2 proste balustrady ze stali kwasoodpornej, szczotkowanej |
Two -speed stairs from the conglomerate - advice and warnings:
Two -speed stairs from the conglomerate - costs:
Lilianna Jampolska