BDR Thermea gold installer with a mobile application
In the KZI mobile application, each participant in the loyalty program has access to his KZI account and can conveniently review the KZI equipment warranty cards in the warranty card system.The mobile application, like the browser version, also gives the possibility of replacing the KZI points awarded for a cash bonus and receiving it on the pre -paid card.The installer can also read the news about the loyalty program and important information from BDR Thermea Poland, remember the program rules, as well as learn the answers to the most frequently asked questions.
The application is therefore a complete center for managing its presence at the Golden Installer Club.Provides convenient account support, from anywhere and at any time - all you need to do is have a phone with internet access with you.
The application is available for smartphones and tablets - both for Android and iOS devices.You can download it free of charge at Google Play and in the App Store.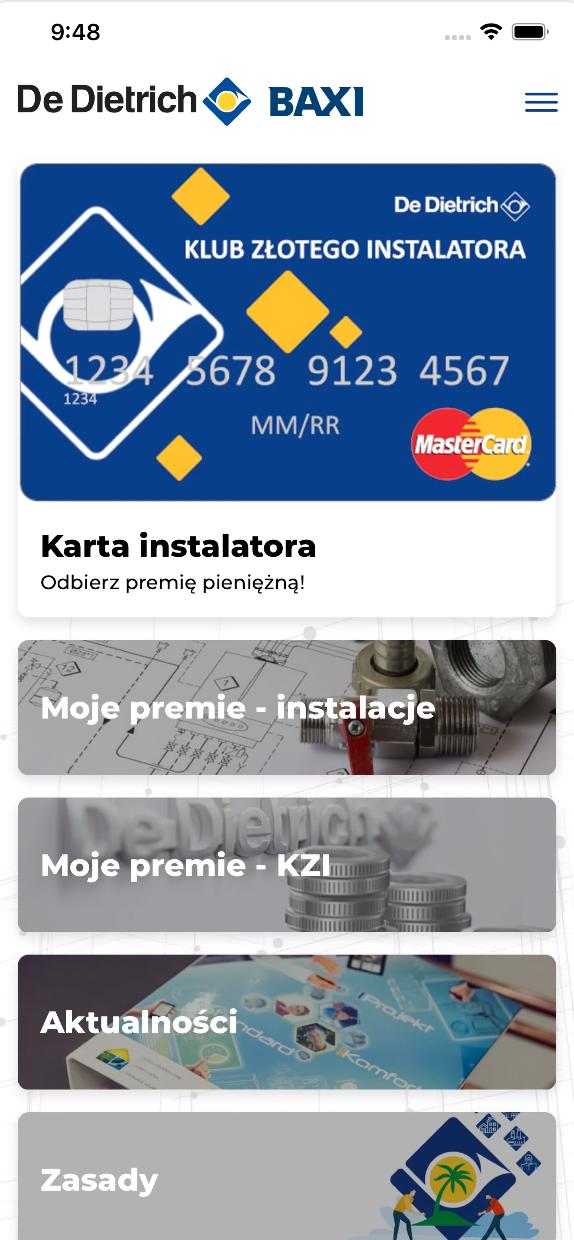 To use the application, you need to register in KZI in a standard way, download the mobile application and enter the access code in the welcome window, which can be found on the website.Golden Installer Club.pl after logging in to your account in the Kzi application tab.Entering the code will allow you to synchronize your account and application.
What is the Golden Installer Club?
The Golden Installer Club is a loyalty program that has been brutting installation and commercial companies cooperating with BDR Thermea Poland for nearly 20 years.KZI participants for each device installed or launched with the customer, registered in the electronic warranty card system receive cash bonuses, which are immediately transferred to the MasterCard pre -paid card issued to your account.In turn, for the promotion of the sale of BDR Thermea devices, points are calculated, which can then be exchanged for participation in an attractive training trip or/or for cash bonuses received on the pre -paid card.Detailed KZI regulations are available on the https website: // www.Golden Installer Club.pl/registration.
To join the program, you must have an account in the BDR Thermea Poland warranty card system (https: // guarantees2.Dedietrich.pl), a następnie założyć konto na platformie Klubu Złotego Instalatora (https://Golden Installer Club.pl).